On Saturday, December 10th we celebrated the holidays at the Finger Lakes Gaming and Race Track in Farmington. Everyone enjoyed a variety of  hors d'oeuvres and dinner options to satisfy their palettes. There was laughter and smiles that filled the banquet room all evening. This may have come from the drinks or perhaps the delicious lobster fondue and shrimp, regardless a great time was had by all.
Dick Scheid, John Pappoon, and Mark Bailey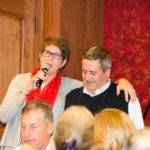 Janet thanking John Pappoon for many years of hard work and dedication.
 Sarah Rizzo and Laura Wilkas
Jenny Felosky, Joe DeBrock, Chris Felosky and Jill DeBrock