The Gen x2 Bit Is on the Cutting Edge of Road Milling.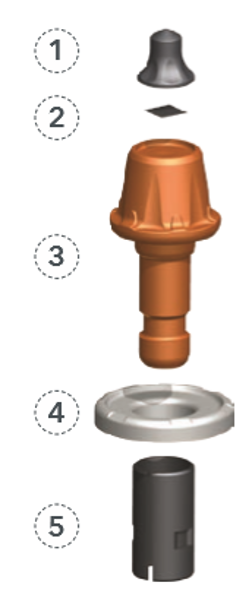 The tip (1) consists of 94% virgin tungsten carbide and 6% cobalt. There are fine and coarse grain tungsten carbide inside the tip. Due to the fine grains there is high wear resistance while coarse grains ensure fracture resistance and heat dissipation.
The tip is first brazed (2) to the cutter body. Then it is quenched to 52 on the Rockwell scale to create a high level of hardness.
In order to keep the shank of the body from breaking, Wirtgen uses a two-step heat-treatment process.
The first is for brazing the tip on. The second is for the shank/body (3). The shank is heated thermally to lower the tensile strength and reduce the probability of fracture.
The upgraded wear ring (4) is a forged piece of steel that protects the tool holder and keeps milling fines out of the tool holder. The wear ring has a recess made into the bottom to keep the bit spinning on its axis (pictured below).
The spring clip (5) incorporates a twin stop grove that allows the bit to rotate as it should for perfect wear.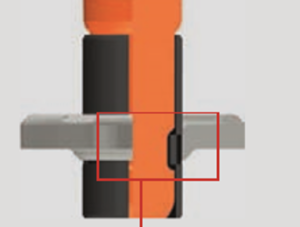 The next generation of road milling bits keeps Wirtgen one step ahead of the competition.
Need more information on milling products? Contact our Machine Control Specialist!